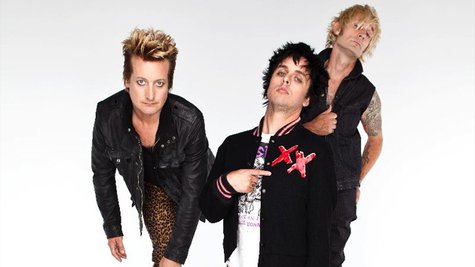 Green Day has unveiled the trailer for their documentary, ¡Quatro! , which offers an inside look at what the band went through while making their album trilogy, ¡Uno! ¡Dos! ¡Tré! The three-minute clip features behind-the-scenes footage of the band in the studio as well as a number of the band's live performances.
The band has recently announced that the film will we be screened on Saturday at the X Games in Aspen, Colorado and that the guys will be on hand for a Q&A session immediately after. Fans are encouraged to leave questions for the band on their website.
Bassist Mike Dirnt says that the film reveals a side of the band that fans have never seen before. "We've been a closed book for a long time," he tells XGames.com . "A lot of our fans, even as much as they know us, they don't really know us. But we always needed a certain 'church and state' [separation] as far as our private lives go."
After canceling a batch of 2012 tour dates and postponing dates in January and February, Green Day will head out on tour in March to promote their recently-release album trilogy, ¡Uno! , ¡Dos! , and ¡Tré! That outing kicks off on March 28 at the Allstate Arena in Rosemont, IL. Visit GreenDay.com to view the full itinerary.
Copyright 2013 ABC News Radio