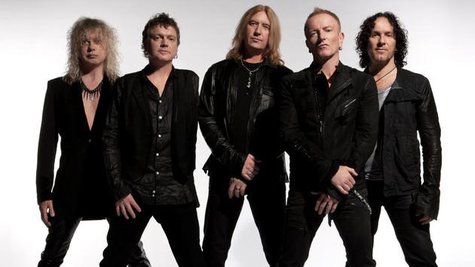 Def Leppard is preparing for the March 22 kickoff of its Viva Hysteria! Las Vegas residency , and frontman Joe Elliott says fans coming out to the shows will be treated to more than just a full performance of the pop-metal band's most successful album. In a new interview with Rolling Stone , the singer reveals that the British rockers will begin each of the nine shows with a set of rarities and little-played album tracks from early in their career.
While Elliott wouldn't divulge names of specific tunes Def Leppard was considering performing, he reports that they all would date back to before 1983's Pyromania .
"That's about as much information you're going to get out of me without waterboarding me," he quips.
Elliott also tells Rolling Stone that he's hoping that staying in one place for a few weeks will give the band a chance to record some new songs. With the residency taking place at The Joint at the Hard Rock Hotel, the singer says he envisions the group setting up a makeshift studio in an extra hotel room.
"Hopefully they won't kick us out," he declares. Elliott adds that he isn't sure if Def Leppard would issue the new tunes as part of a full-length album, suggesting rather that "maybe the way to go is put one or two tracks out at a time and see how it goes. Almost like a 7-inch single."
As for Def Leppard performing all of its classic 1987 album, the 12-times-platinum Hysteria , at the upcoming concerts, Elliott notes that fans can expect to hear the songs as they were arranged on the original record.
Def Leppard's Viva Hysteria! residency is scheduled through an April 10 performance. Visit DefLeppard.com to check out a complete list of dates.
Copyright 2013 ABC News Radio