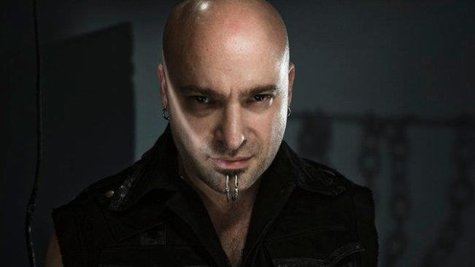 Disturbed frontman David Draiman says that the debut album of Device -- his new side project with former Filter guitarist Geno Lenardo -- will feature some heavy guitar work in addition to electronic influences.
"This record is still very much guitar-driven and I would never completely divorce myself from that approach," he tells Noisecreep . "In Device, we utilize the electronica as an accent to the songs…but the core of this band, and the sound of Device, is guitar, drums, bass and vocals."
Draiman adds that he enjoyed the level of creative freedom he experienced while making the album. "This time, all of the elements were much more in my control," he notes. "I love hooks, but getting radio airplay has never been a concern to me while I'm writing. That would be a very stifling and imprisoning way of writing music."
Device's self-titled debut album will arrive at all the usual outlets on April 9, and will include appearances by Avenged Sevenfold frontman M. Shadows , System of a Down singer Serj Tankian , Rage Against the Machine guitarist Tom Morello , Halestorm frontwoman Lzzy Hale , Black Sabbath bassist Geezer Butler and former Deep Purple bassist Glenn Hughes .
We'll get our first taste of the new music when the album's first single, "Vilify," arrives at radio on February 19.
Copyright 2013 ABC News Radio