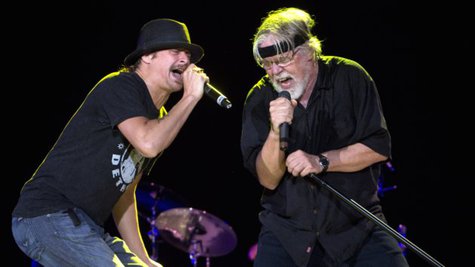 Kid Rock has announced that he'll be joining fellow Detroit rocker Bob Seger for a pair of concerts this spring. Rock and his Twisted Brown Trucker Band will share the stage with Seger and his Silver Bullet Band on March 15 at the Xcel Energy Center in St. Paul, MN and on March 16 at the Fargo Dome in Fargo, ND.
The pairing comes as no surprise: Rock and Seger have been friends ever since they met in 2000. Rock had the honor of inducting Seger into the Rock and Roll Hall of Fame in 2004, and he also sang a duet of Vince Gill 's "Real Mean Bottle" with Seger for his 2006 album, Face the Promise . Seger later returned the favor by playing piano on "Collide" for Rock's 2010 album, Born Free .
Tickets for both shows go on sale on January 26 at 10 a.m. local time. A ticket pre-sale will be available for members of Rock's fan club. Visit KidRock.com for more info.
Copyright 2013 ABC News Radio