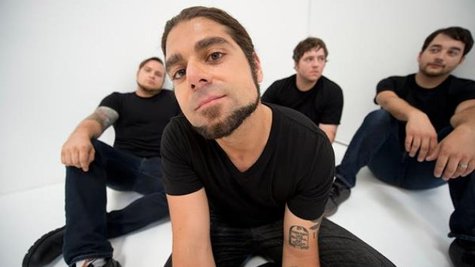 Coheed and Cambria has released a lyric video for their new single, " Dark Side of Me ," which is included on the second installment of their Afterman concept album, The Afterman: Descension . In the four-minute clip, the song's lyrics flash across the screen while a number of random images of the ocean, bubbling water and cobwebs are shown behind them.
"'Dark Side of Me' is a song about the duality of human nature," said frontman Claudio Sanchez in a statement. "It's natural to try to hide the more sinister facets of ourselves from the people we care about, but to ever truly share a life with another person, that dark side needs to make its way out into the open."
You'll get your first chance to hear "Dark Side of Me" performed live when Coheed and Cambria drop in on TBS' Conan on January 21. Shortly after their appearance, the band will embark on the next leg of their North American tour. That outing begins on February 4 at the 9:30 Club in Washington, D.C. Visit CoheedAndCambria.com to view the full itinerary.
Copyright 2013 ABC News Radio