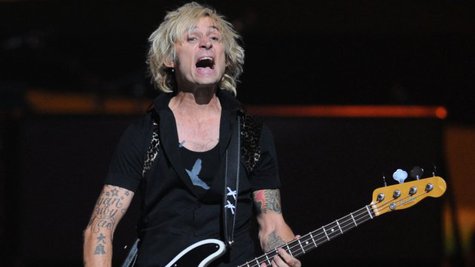 Green Day bassist Mike Dirnt is mourning the loss of his birth mother, Carol Alba Rowland . Dirnt posted a message on the band's website to pay tribute to Rowland, who he had met only recently.
"As many of you know I was adopted," wrote the bassist. "Over the last ten years I have sought [Rowland] out with the help of a good friend, only to meet her one month before her passing!"
Dirnt notes that meeting with Rowland was "surreal," and that he was grateful to have spent some time getting to know her before she passed. "We were able to share a cup of coffee, a cigarette and some smiles," he added. "She was a beautiful woman with a huge smile a hot temper and a kind heart. I will miss her as I did before, only now with some memories and a picture to go with the place in my heart! Love you mom!!!"
After canceling a batch of 2012 tour dates and postponing dates in January and February, Green Day will head out on tour in March to promote their recently-release album trilogy, ¡Uno! , ¡Dos! , and ¡Tré! That outing kicks off on March 28 at the Allstate Arena in Rosemont, IL. Visit GreenDay.com to view the full itinerary.
Copyright 2013 ABC News Radio