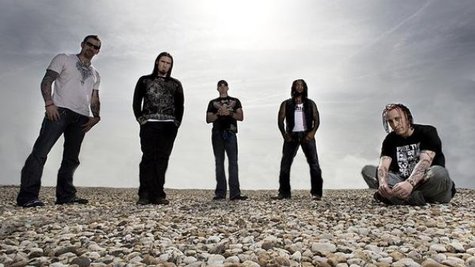 Drummer Morgan Rose says that Sevendust 's recent year-long hiatus helped the creative process for the group's forthcoming ninth studio album, Black Out the Sun , due in stores on March 26.
"It was a good break for us," Rose tells Billboard . "We liked being around each other again. We appreciated each other and each other's talent. I think it helped in every aspect -- in the writing as well."
To give fans a taste of Black Out the Sun , Sevendust has posted a stream of the album's first single, "Decay," on Billboard.com. Rose reveals that the track was created from material left over from the sessions from their previous album, 2010's Cold Day Memory .
"We had this riff, and we said, 'Let's jam it and see if anything comes of it'," he explains. "And before you know it, it became a song that ends up on the record, and everybody listens to it and they end up picking that as the single, which was pretty cool."
Rose adds that the band expects to begin filming a video for "Decay" sometime this month, before they kick off their tour on February 2 at Ziggy's in Winston-Salem, N.C. Lacuna Coil will support the band on all dates. Visit Sevendust.com to view the full itinerary.
Copyright 2013 ABC News Radio