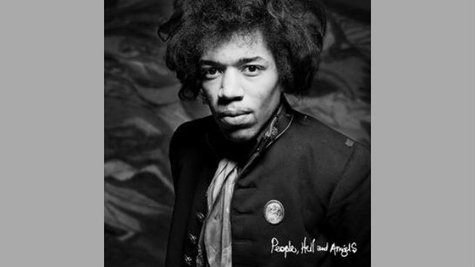 People, Hell and Angels , the upcoming album containing 12 previously unreleased Jimi Hendrix recordings, won't hit stores until March 5, but fans of the late guitar legend can hear a preview of the collection by tuning in to the January 20 episode of CBS' Hawaii Five-0 .
The show, which will air following the AFC Championship Game at 10 p.m. ET/9 p.m. CT, will feature seven of the tracks on the album -- "Bleeding Heart," "Crash Landing," "Hear My Train a Comin'," "Hey Gypsy Boy," "Inside Out," "Mojo Man" and "Somewhere."
The episode focuses on the character of Chin Ho Kelly (portrayed by Daniel Dae Kim ), a detective on the Five-0 task force who must attempt to escape from a prison after he's kidnapped and placed in the facility in inmates clothes. Veteran TV actress Lindsay Price guest stars.
People, Hell and Angels is collection of studio tracks Hendrix recorded with various collaborators in 1968 and '69 while in the process of preparing a follow-up to his final studio effort, 1968's Electric Ladyland . A video featuring the entire tune "Somewhere," which will be issued as a single on February 5, was posted on VEVO.com earlier this week.
Copyright 2013 ABC News Radio