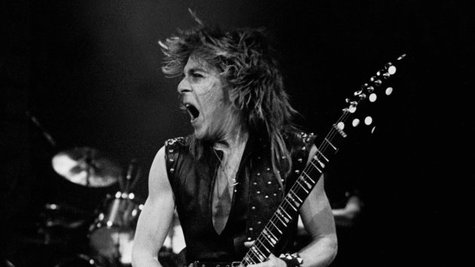 The family of late Ozzy Osbourne guitarist Randy Rhoads has filed a lawsuit against three men involved in putting together a recently-released coffee-table book about the acclaimed musician, accusing them of using unauthorized material in the publication.
The book, titled simply Randy Rhoads , was co-written by Andrew Klein and Steve Rosen with help from Peter Margolis and another party. Klein and Margolis also are part of a team that, starting in 2007, began work on an official documentary about the guitarist's life that has yet to see the light of day.
Randy's mother, Delores, brother Kelle and his sister, Kathryn Rhoads D'Argenzio , claim that Klein and Margolis took photos, videos and other materials provided to them for inclusion in the movie and used them without permission in the book. They also maintain that the authors have falsely suggested that the book has been sanctioned by, and has had the cooperation of, the Rhoads family.
According to an official press statement, the lawsuit -- which was filed early last month in Los Angeles Superior Court -- accuses the defendants of "fraud, breach of contract, invasion of privacy and misappropriation of rights of publicity." The publisher of the book, Velocity Publishing Group, also has been named in the suit.
Liam Collopy , a representative for Velocity Publishing, told ABC News Radio on Wednesday that the company and the book's authors have no comment regarding the lawsuit at this time, while adding that they "very much look forward to answering the erroneous claims set forth and their eventual vindication."
Randy Rhoads is best-known for his contributions to Osbourne's first two solo albums, 1980's Blizzard of Ozz and 1981's Diary of a Madman . He was killed in 1982 at age 25 in a plane crash in Leesburg, Florida, while touring with Ozzy.
Copyright 2013 ABC News Radio