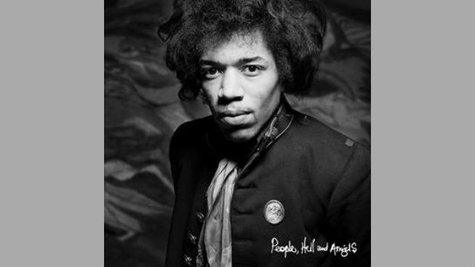 RollingStone.com is giving Jimi Hendrix fans their first full taste of music from the late guitar legend's People, Hell & Angels album, which is scheduled to hit stores on March 5. The website is offering an exclusive stream of "Somewhere," one of the 12 previously unreleased tracks from 1968 and '69 that are featured on the upcoming collection.
The bluesy, psychedelic jam, which was recorded in March 1968, features Stephen Stills on bass and Hendrix's Band of Gypsys collaborator Buddy Miles on drums. "Somewhere" and the other songs on People, Hell & Angels were among the tunes the Rock and Roll Hall of Famer was working on as he was putting together First Rays of the New Rising Sun , the never-completed double-disc follow-up to his Electric Ladyland album.
In advance of the release of People, Hell & Angels , "Somewhere" will be issued as a single on February 5 . It will be available as a digital download, as well as a limited-edition vinyl disc at select independent record shops and a CD single exclusively at Walmart. The B-side of the vinyl single will be a previously unreleased studio version of "Power of Soul" recorded by Hendrix and Band of Gypsys in August 1970. The CD single also will include an extra track -- an unreleased live rendition of "Foxey Lady" from a January 1970 concert by Hendrix's Band of Gypsys at the Fillmore East in New York City.
In addition, high-quality vinyl editions of The Jimi Hendrix's debut album, Are You Experienced? -- both the U.S. and U.K. versions -- and the group's sophomore effort, Axis: Bold as Love , will be released on the same day as People, Hell & Angels .
Copyright 2013 ABC News Radio