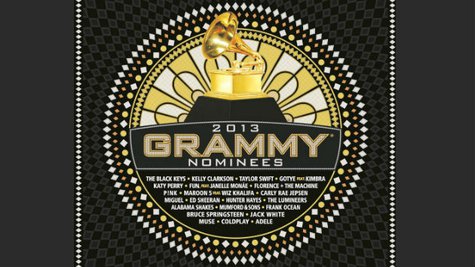 The 55th Annual Grammy Awards are fast approaching, and if you still need to brush up on who's nominated for what, there's one album that will do the trick. The 2013 Grammy Nominees album, hitting stores January 22, features songs from all the nominees in all the top categories, all in one handy place.
The 22-track disc features songs from nominees in the so-called Big Four categories: Record of the Year, Song of the Year, Best New Artist, and Album of the Year. In addition, nominees in the categories of Best Pop Solo Performance, Best Pop Vocal Album, Best Rock Performance, Best Rock Song and Best Rock Album.
Among the songs you'll find on the disc: Muse 's "Madness"; Mumford & Sons ' "I Will Wait"; Jack White 's "Freedom at 21"; Coldplay 's "Charlie Brown"; The Black Keys ' "Lonely Boy"; Gotye 's "Somebody That I Used to Know"; Florence + the Machine 's "Shake It Out"; The Lumineers ' "Ho Hey"; Alabama Shakes ' "Hold On"; and fun. 's "We Are Young."
If you pre-order the disc at Grammy.com/2013grammyalbum by January 21, you can enter to win a trip to this year's Grammy Awards, which air on CBS February 10. Additionally, if you buy the album in stores, you can enter to win a trip to next year's Grammy Awards.
Copyright 2013 ABC News Radio