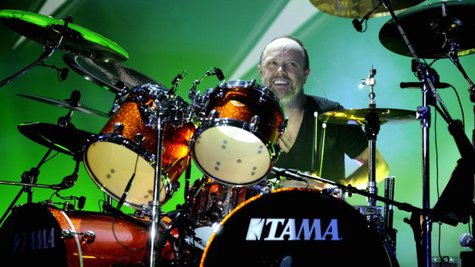 Metallica is drawing some inspiration from Led Zeppelin 's 1976 classic concert flick, The Song Remains the Same , for their upcoming 3D movie. Drummer Lars Ulrich says that while there are some similarities between the two films, both of which feature live performances and some unique backstage sequences, there is one major difference.
"The stuff that takes place offstage in the Metallica movie does not feature any members of Metallica," Ulrich tells U.K. magazine Classic Rock . "It's two separate worlds -- a Metallica show and a story that unfolds in a parallel universe -- and at some point they intertwine."
In addition to working on the film, the band is recording their next studio album. Ulrich adds that fans can expect the new material to be similar to what they experienced on 2008's Death Magnetic .
"There aren't many Metallica records that sound as good as Death Magnetic four years after they were made," notes the drummer. "What we're doing now certainly sounds like a continuation."
Copyright 2013 ABC News Radio