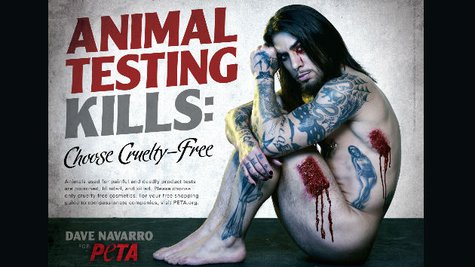 Three years ago, Jane's Addiction 's Dave Navarro posed naked in an ad for People for the Ethical Treatment of Animals' ongoing "Ink, Not Mink" campaign. Now, the guitarist has once again stripped down for PETA's new anti–cosmetics testing campaign. The ad features Navarro, naked and seated on the ground, bleeding from the eyes with scarred patches of skin on his leg and torso.
"They're not taking a bunny rabbit and putting mascara on it," said Navarro in a statement. "They're injecting a chemical directly into its eye to see what kind of adverse reaction happens to it. They're all alive, and they're all aware. It's torture for the animal, it's terrifying and painful and probably one of the cruelest things done in the name of vanity."
You check out Navarro's ad at MediaPETA.com .
Copyright 2013 ABC News Radio