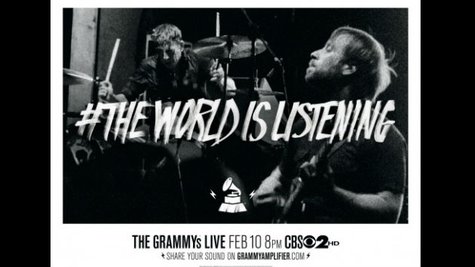 Grammy-winners The Black Keys are among the artists featured in a new ad campaign the Recording Academy has launched to promote the upcoming Grammy Awards, which air on February 10.
The campaign, called #TheWorldIsListening, features print and digital ads, as well as three TV commercials. Look for The Keys to appear in the third commercial of the series, titled "Soundcheck."
In addition to the ads, #TheWorldIsListening has an associated website, GrammyAmplifier.com , where unknown musicians can share tracks via SoundCloud, and compete for a chance to have their songs tweeted by top stars, thus gaining valuable exposure.
The Black Keys are up for five awards at this year's event in connection with their latest album, El Camino . The release scored nominations for Album of the Year and Best Rock Album, while their hit single "Lonely Boy" will compete for Record of the Year, Best Rock Song, and Best Rock Performance. In addition, guitarist Dan Auerbach received a nod for Producer of the Year for his work on Dr. John 's album, Locked Down .
Copyright 2013 ABC News Radio