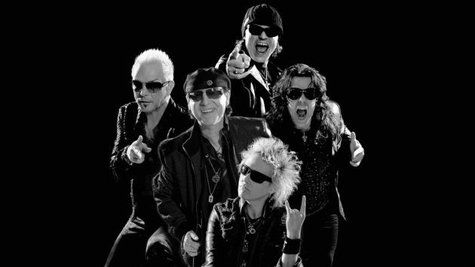 For the last couple of years, The Scorpions have been traveling around the world on their Final Sting farewell tour, but fans of the German metal mavens will be excited to hear that they've had a change of heart about their retirement. In a new interview with U.K. magazine Classic Rock , frontman Klaus Meine talks about the band's reasons for deciding to keep rocking like a hurricane.
"As the emotion built [during the tour], it became a gradual decision," explains the singer. "It's one thing to say, 'This is going to be the end of the Scorpions,' and another to do it."
Meine also points out that the way the band's last album of original material, 2010's Sting in the Tail , was received was a motivating factor for the group to continue. " Sting in the Tail …was such a success that a whole new generation of fans joined the party," he declares. "And you know that with all the best parties it's sometimes hard to find the door."
Meanwhile, Meine reports that The Scorpions have plans to move ahead with an in-the-works album project that features the band revisiting unfinished tracks that date back to its 1980s heyday. "We started that over a year ago," the frontman notes. "It will be…songs with pure Scorpions DNA from a very exciting time. Once we close the book on the crazy touring schedule that's something we'll pick up again."
Meine also suggests that the group is considering eventually recording another album of brand-new music. "At this point nothing is out of the question," he maintains. "I don't want to say too much right now but I can reassure you there is still life in those bloody old Scorpions."
Also on the way from the rockers is a documentary about their long career.
Copyright 2013 ABC News Radio