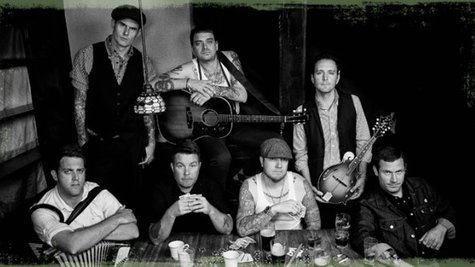 Dropkicks Murphys got some help on their newly-released album, Signed and Sealed in Blood , from an unlikely source. The group's lead single, "Rose Tattoo," features some fancy picking from Mumford & Sons banjo player Winston Marshall . Dropkick Murphys mandolin player Tim Brennan says that the idea for the collaboration came about after the two bands met overseas.
"We played a festival in Europe and Mumford & Sons were playing," Brennan tells Fuse in a video interview. "It turned out that they wanted to come see us later in the night, on a smaller stage. We struck up a conversation."
Shortly after that, Mumford & Sons asked the Murphys to join the lineup for one of their Gentlemen of the Road Tour stops in Portland, Maine. Brennan reveals that it was during their time together that they "kidnapped" Winston and "made him play on the record."
Singer/bassist Ken Casey adds that he enjoyed working with Marshall and that his signature style of playing was just what the song needed. "He's a good guy, down to earth," explains Casey. "It's cool...that he played on the record. It's subtle, but with that rolling finger-picking style, you know it's him when you hear it."
Dropkick Murphys are currently on tour overseas, but they'll return to kick off a North American tour on February 21 at the House of Blues in Cleveland, OH.
Copyright 2013 ABC News Radio