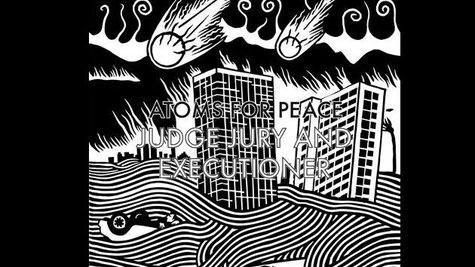 Atoms for Peace -- the all-star collaboration that includes Radiohead frontman Thom Yorke and bassist Flea from Red Hot Chili Peppers -- is treating us to another cut from their debut album, Amok .
After posting a stream of " Default " and offering a free download of the non-album B-side, "What the Eyeballs Did," Atoms for Peace has now dropped a new video for " Judge Jury and Executioner ." The three-minute animated clip features the song accompanied by a number of swirling geometric shapes and flashing lights that are timed to the music, created by audiovisual composer Tarik Barri .
While Amok won't arrive in stores until February 26, "Judge Jury and Executioner" is now available for purchase at iTunes . In addition, "Judge Jury and Executioner" will be released on 12" vinyl, along with exclusive non-album B-side "S.A.D," on March 19.
Copyright 2013 ABC News Radio