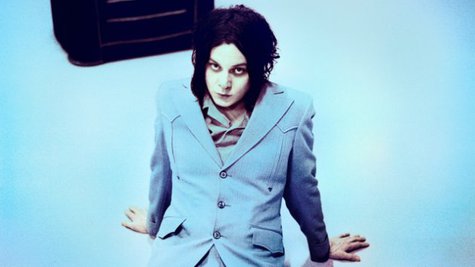 The fifteenth installment of Jack White 's Third Man Records subscription series The Vault will include a number of previously-unreleased live recordings the ex- White Stripes frontman recorded with his Raconteurs band mate, Brendan Benson .
The package includes a vinyl album that documents White's debut concert with Jack White and the Bricks , a short-lived side project which featured Benson on guitar. Titled Jack White and the Bricks: Live on the Garden Bowl Lanes , the album includes a cover of the Stripes' "Dead Leaves and the Dirty Ground," along with covers of Bob Dylan 's "Isis" and "I Threw It All Away." That show took place on White's 24th birthday on July 9, 1999 at Garden Bowl in Detroit, MI.
Vault subscribers will also receive a 7" vinyl record featuring early demo recordings of White and Benson performing The Raconteurs single "Steady, As She Goes" and the Stripes' "The Same Boy You've Always Known." In addition, a film titled White Heat will also be included in the package. The movie features performances and behind-the-scenes footage of The White Stripes European tour with Whirlwind Heat in 2002.
Vault package number fifteen will be available to all subscribing members until January 31.
Here is the track list for Jack White and the Bricks: Live on the Garden Bowl Lanes :
"Dead Leaves and the Dirty Ground"
"Isis" (Bob Dylan cover)
"Do"
"Same Boy You've Always Known"
"The Union Forever"
"Now Mary"
"Black Jack Davy"
"I Threw It All Away (Bob Dylan cover)
"Ain't It a Shame" (? and the Mysterians cover)
Copyright 2013 ABC News Radio