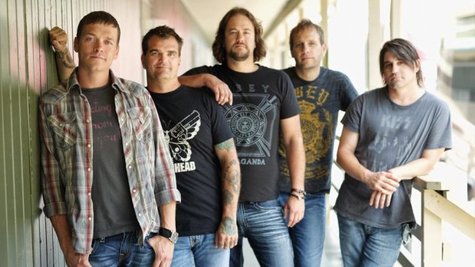 3 Doors Down may have just released their Greatest Hits album, but that doesn't mean that the band is winding down. Frontman Brad Arnold says that fans can expect the band to churn out a new album in the near future.
"We really want to focus this time on getting another record out within the next, maybe, year and a half or so," the singer tells ABC News Radio. "So that means writing on the road, but we're all kind of professional procrastinators. We're like, 'Yeah man we'll get out on tour and write this time.' And then you get on tour [and it's], 'Oh yeah man, we'll write when we get home.'"
Arnold adds that the self-imposed deadline will be something new for the band, which has consistently put out a new album about every three years. "It seems like…it's been a long time in between our records, but you know by the time you write a record, and you record it…and promote it and then go out there and tour on it for a while, by the time you get around to that writing process and recording again and get it out it's been like three years."
3 Doors Down will kick off the next leg of their co-headlining tour with Daughtry at the Verizon Theatre in Dallas, TX, on January 25.
Copyright 2013 ABC News Radio