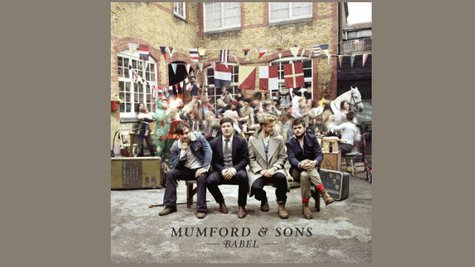 As expected, Mumford & Sons ' Babel has once again taken the top spot on the Billboard 200 albums chart this week.
Babel , which returned to the #1 spot on the tally last week thanks to its picking up the Album of the Year trophy at the Grammy Awards, sold 63,000 copies, according to Nielsen SoundScan. This marks the fifth non-consecutive week that the album has sat at the top of the chart: Babel previously dominated the tally for three weeks straight after it was released last year. In addition, Babel is now the longest-running #1 album for a duo or group since OutKast 's Speakerboxxx/The Love Below spent seven weeks at the top of the Billboard 200 after it was released in 2003.
Meanwhile, The Lumineers self-titled debut album jumped up a notch on the list from #6 to #5, selling 35,000 copies. Right behind them is Alabama Shakes ' debut album Boys & Girls , which moved up from #20 to #6 this week, selling 33,000 copies, according to Nielsen SoundScan. The Shakes' sales boost is attributed to the band's recent performance on NBC's Saturday Night Live .
The 2013 Grammy Nominees album, which features songs from all the nominees in all the top categories, also secured a place on the list. The compilation fell from #2 to #7, selling 30,000 copies, according to Nielsen SoundScan.
Copyright 2013 ABC News Radio