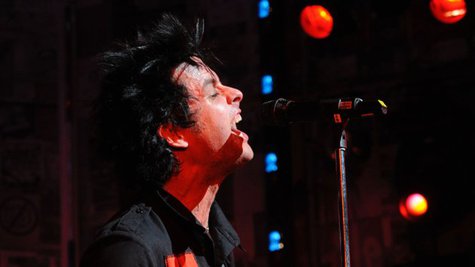 Green Day frontman Billie Joe Armstrong doesn't remember much about his meltdown at a Las Vegas music festival last September, which prompted him to enter rehab for substance abuse treatment.
In an interview with Rolling Stone , Armstrong says he remembers "tiny things" about his band's performance that night, during which he profanely claimed that the group's set was being cut short and he smashed his guitar into the stage floor.
Armstrong recalls, "The next morning, I woke up. I asked [my wife] Adrienne , 'How bad was it?' She said, 'It's bad.' I called my manager. He said, 'You're getting on a plane, going back to Oakland and going into rehab immediately.'"
Armstrong says his struggles with alcohol and prescription drugs were so great leading up to the incident that he "couldn't predict" where he was going to end up on any given night. He says, "I'd wake up in a strange house on a couch. I wouldn't remember how. It was a complete blackout."
The interview is featured in the issue of Rolling Stone hitting newsstands this Friday, with Armstrong on the cover.
Copyright 2013 ABC News Radio