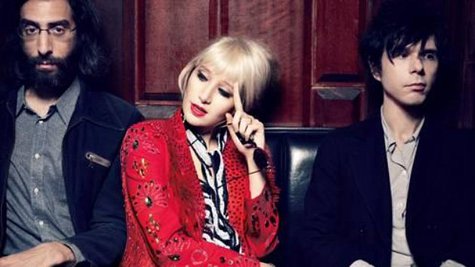 Yeah Yeah Yeahs are offering us a preview of the first single from their upcoming album, Mosquito , due on April 16. The band has released a video for " Sacrilege ," which features a stream of the full-length track, along with the visual of a large burning candle in a jar.
Frontwoman Karen O has said that the band will be exploring some new creative avenues on Mosquito . "This is a feel good, food for the soul, chicken soup for the ears Yeah Yeah Yeahs record -- which doesn't mean easy listening -- it means kind of raw, kind of chaotic, kind of dreamy," said the singer in a statement.
Yeah Yeah Yeahs are touring in the spring and have just confirmed that they will perform at this year's South by Southwest music festival, which runs March 12-17 in Austin, Texas. For the full list of tour dates visit YeahYeahYeahs.com .
Here's the track list for Mosquito :
"Sacrilege"
"Subway"
"Mosquito"
"Under the Earth"
"Slave"
"These Paths"
"Area 52"
"Buried Alive" (Featuring Dr. Octagon)
"Always"
"Despair"
"Wedding Song"
Copyright 2013 ABC News Radio