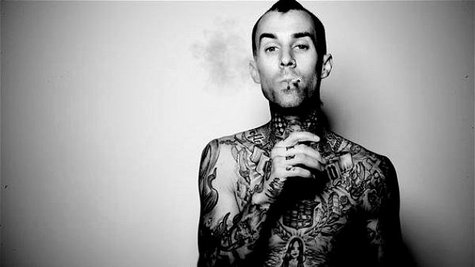 Bad news for Blink-182 fans in Australia. Drummer Travis Barker announced on Saturday that he won't be taking part in the band's upcoming tour in the land down under because of a fear of flying he developed as a result of the plane crash he barely survived in the fall of 2008.
"I still haven't gotten over the horrific events that took place the last time I flew when my plane crashed and four people were killed, two being my best friends," wrote Barker on his Facebook page . "I gave the band my blessing to take another drummer if they still wanted to do the tour without me. I hope to come to Australia again someday perhaps by ship if need be. Unfortunately, there wasn't a boat that worked with the schedule this time around."
Shortly after the drummer posted the message, Blink-182 revealed that they have decided who will fill-in for Barker on their Australian trek, which kicks off on Wednesday at the Allphone Arena in Sydney.
"The band knew the chances of Travis overcoming his fear of flying…would be a challenge, but we wanted to play for our fans in Australia nonetheless," wrote the group in a joint statement on their Facebook page. "Since we now know we have to make the trip without Travis our friend Brooks Wackerman ( Bad Religion , Tenacious D ) has stepped in. We love our fans in Australia so canceling was not an option so we still plan to come and play some kick ass shows."
Copyright 2013 ABC News Radio