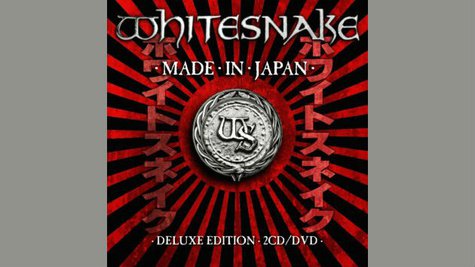 On October 11, 2011, Whitesnake gave a memorable performance as one of the headliners at the Loud Park festival at Japan's Saitama Super Arena. Originally recorded for Japanese television, the set will be released April 23 on DVD, Blu-ray and as a deluxe two-CD/DVD set under the title Made in Japan .
Shot in high-def video and recorded in 5.1 surround sound, the concert features the pop-metal veterans performing selections from their 2011 studio effort, Forevermore , along with classics like "Here I Go Again," "Is This Love" and "Still of the Night." The video discs also contain a couple of fan-shot performances, as well as a photo slideshow of the band.
As for the deluxe edition, the CDs offer bonus acoustic renditions of a number of unreleased Forevermore outtakes that Whitesnake played during soundchecks while on its 2011 Japan tour.
Whitesnake's lineup for Made in Japan was singer David Coverdale , guitarists Doug Aldrich and Reb Beach , bassist Michael Devin , keyboardist Brian Ruedy and drummer Brian Tichy , who recently left the group.
Here is the complete track list for Made in Japan :
CD 1:
"Best Years"
"Give Me All Your Love Tonight"
"Love Ain't No Stranger"
"Is This Love"
"Steal Your Heart Away"
"Forevermore"
"Six String Showdown"
"Love Will Set You Free"
Drum Solo
"Fool for Your Loving"
"Here I Go Again"
"Still of the Night"
CD 2:
"Love Will Set You Free"
"Steal Your Heart Away"
"Fare Thee Well" (acoustic)
"One of These Days" (acoustic)
"Lay Down Your Love"
"Evil Ways"
"Good to Be Bad" (acoustic)
"Tell Me How" (acoustic)
DVD & Blu-ray:
"Best Years"
"Give Me All Your Love Tonight"
"Love Ain't No Stranger"
"Is This Love"
"Steal Your Heart Away"
"Forevermore"
"Six String Showdown"
"Love Will Set You Free"
Drum Solo
"Fool for Your Loving"
"Here I Go Again"
"Still of the Night"
"Forevermore" (fan video)
"Steal Your Heart Away" (fan video)
Copyright 2013 ABC News Radio