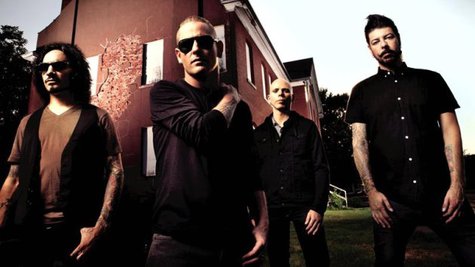 Earlier this week, Stone Sour released the lyric video for "Do Me a Favor," the first single from the upcoming, second installment of their House of Gold & Bones concept album. Frontman Corey Taylor says that the guys are now in the process of producing a proper video for the track, which will include some unique special effects.
"We're working on a video for 'Do Me a Favor' which is very much like a mini-movie that is actually kind of a new form of animation," he tells ABC News Radio. "It's live action but it's painted…so it looks really, really cool and kinda has an old school, new school feel to it."
Taylor adds that he chose to release "Do Me a Favor" as the first single from House of Gold & Bones Part 2 because he feels it is one of the most powerful songs on the album. "It's an absolute barn-burner," he explains. "I mean, it's one of those tunes that if you can't feel that, if you can't jump around to that, then there's no saving you. It's a great tune and it's got a lot of attitude to it but it's got a huge chorus."
House of Gold & Bones Part 2 is set to arrive in stores on April 9. You'll be able to get your hands on the first issue of a comic book mini-series based on the double album starting April 17.
Copyright 2013 ABC News Radio