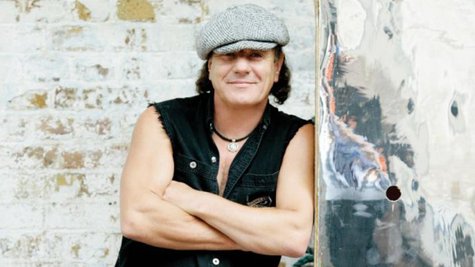 He's the man who sang such less-than-sentimental tunes as "Given the Dog a Bone" and "Let Me Put My Love into You," so perhaps it's a little surprising that AC/DC 's Brian Johnson is a bit sentimental when it comes to Valentine's Day. In a recent interview with ABC News Radio, the gravel-voiced singer discussed how much the holiday has changed since he was young.
"When I was a kid, a valentine card was something that you wrote to a girl that you had a crush on at school," he explains. "You drew it yourself and then you never put your name on it…and she had to wonder who the heck had sent it to her. That was the wonderful thing about it."
Lamenting that the holiday has become "Hallmark Day," Johnson maintains that "Valentine's Day now is just another day where women look at their husbands or boyfriends and say, 'I wonder what he's getting me.' And the flower market goes through the roof with red roses bein' sold."
Regardless of his feelings about Valentine's Day, the Rock and Roll Hall of Famer does have a holiday wish for fans: "Just have a nice one guys, and take your girl out for dinner and other stuff."
Copyright 2013 ABC News Radio