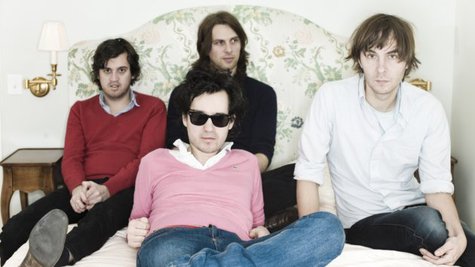 Phoenix is hoping that a little of Michael Jackson 's magic will rub off on their new record. The band has recently revealed that they purchased and mixed their upcoming album, Bankrupt! , on the same Harrison 4032 solid-state recording console that was used to make Jackson's 1982 hit album, Thriller .
Frontman Thomas Mars says that the band bought the console after guitarist Laurent Brancowitz found it listed on eBay by Clayton Rose , the owner of a recording studio in Fullerton, CA.
"The most mysterious part to me was that no one else -– no nerd or music engineer or memorabilia freak -– seemed to want it," Mars tells The New Yorker . "There was something a little spooky about [Rose]. He was very pushy. It seemed like a scam."
Phoenix snatched up the console for $17,000, which was considerably less than its original listing price of $32,000, and shipped it to Paris so they could finish making Bankrupt!
While the band is set to hit the road for a number of tour dates in March, a release date for Bankrupt! has yet to be announced.
Copyright 2013 ABC News Radio