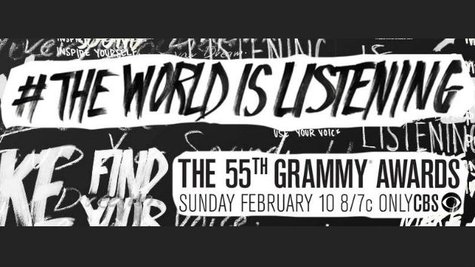 The 55th annual Grammy Awards ceremony airs on CBS this Sunday night at 8 p.m. ET/PT, and rock fans have quite a few reasons to watch the telecast.
This year's event has a number of rock acts taking the stage to perform including Mumford & Sons , fun. and The Black Keys -- all of whom will be competing for trophies in six categories, including Album of the Year. Other rock-related acts with multiple nominations include Jack White and Gotye , with three each, and Florence + the Machine , Coldplay and Alabama Shakes , with two apiece.
Also during the event, a tribute to late Band singer/drummer Levon Helm will be staged featuring a number of artists, including Mumford & Sons, Brittany Howard of Alabama Shakes, pop icon Elton John and country star Zac Brown .
In addition, The Lumineers -- who are also scheduled to perform at the event -- will be duking it out with Alabama Shakes for the honor of Best New Artist. Singer/guitarist Wesley Schultz says that while he's not concerned about winning the award, he's very worried about having to make an acceptance speech. "We're not very eloquent speakers," he notes. "So, it wouldn't really go that well. I'd rather just give us an instrument and let us play a song."
In a video interview with Grammy.com , Shakes singer Howard and drummer Steve Johnson say they're grateful just to be in the running for the prestigious award. "To be nominated for Best New Artist is kind of hard to talk about it 'cause it's almost like it's still surreal," Howard notes. Johnson adds, "I think to get nominated by our peers is the coolest part about the whole deal. These are people that we admire. We worked hard to get here and to have somebody recognize you as an up-and-coming band I guess is just over the top."
fun. singer Nate Ruess says while he was thrilled that the band received six nominations for their latest album, Some Nights , he never expected they would ever be considered for any awards. "I always just thought that this band was gonna go the route of just trying to be bigger and bigger live and I didn't think commercial success, especially having been doing this for over a decade, I didn't think commercial success was really in the cards," he tells ABC News Radio.
Guitarist Jack Antonoff adds that it's just an honor for them to be included in several categories with bands they admire, including Jack White, The Black Keys and Mumford & Sons. "It's just, feels like alternative music is back," he explains. "Looking at the Album of the Year, especially those nominations, we couldn't be more proud to be in there. We couldn't be more proud to be in all of them but there's a change that's coming in music, and this feels like a big year for that. So, we're just excited to be a part of it."
Each year, the most prestigious awards -- known as the Big Four -- are Record of the Year, Song of the Year, Album of the Year and Best New Artist. Here's the difference between Record and Song of the Year: the Song of the Year Grammy goes to the song's writer or writers, who are not necessarily the same ones who performed the tune. The Record of the Year Grammy goes to the artist, producer, engineer and mixer of the song. For Album of the Year, the Grammy goes to the artist, the album's producer or producers, the engineers and any featured performers.
Here are the nominees in the main categories that include at least one rock artist:
Album of the Year
The Black Keys, El Camino
fun., Some Nights
Mumford & Sons, Babel
Frank Ocean, Channel Orange
Jack White, Blunderbuss

Record of the Year
The Black Keys, "Lonely Boy"
Kelly Clarkson, "Stronger (What Doesn't Kill You)"
fun. featuring Janelle Monae, "We Are Young"
Gotye featuring Kimbra, "Somebody That I Used to Know"
Frank Ocean, "Thinkin Bout You"
Taylor Swift, "We Are Never Ever Getting Back Together"

Song Of The Year [awarded to songwriter]
"The A Team," Ed Sheeran, songwriter (Ed Sheeran)
"Adorn," Miguel Pimentel, songwriter (Miguel)
"Call Me Maybe," Tavish Crowe, Carly Rae Jepsen & Josh Ramsay, songwriters (Carly Rae Jepsen)
"Stronger (What Doesn't Kill You)," Jörgen Elofsson, David Gamson, Greg Kurstin & Ali Tamposi, songwriters (Kelly Clarkson)
"We Are Young," Jack Antonoff, Jeff Bhasker, Andrew Dost & Nate Ruess, songwriters (fun. featuring Janelle Monae)

Best New Artist
Alabama Shakes
fun.
Hunter Hayes
The Lumineers
Frank Ocean
Best Pop Vocal Album
Kelly Clarkson, Stronger
Florence + the Machine, Ceremonials
fun., Some Nights
Maroon 5, Overexposed
Pink, The Truth About Love

Best Pop Duo/Group Performance
"Shake It Out," Florence + The Machine
"We Are Young," fun. featuring Janelle Monae
"Somebody That I Used To Know," Gotye featuring Kimbra
"Sexy and I Know It," LMFAO
"Payphone," Maroon 5 and Wiz Khalifa

Best Rock Performance
"Hold On," Alabama Shakes
"Lonely Boy," The Black Keys
"Charlie Brown," Coldplay
"I Will Wait," Mumford & Sons
"We Take Care of Our Own," Bruce Springsteen

Best Hard Rock/Metal Performance
"I'm Alive," Anthrax
"Love Bites (So Do I)," Halestorm
"Blood Brothers," Iron Maiden
"Ghost Walking," Lamb of God
"No Reflection," Marilyn Manson
"Whose Life (Is It Anyways?)," Megadeth

Best Rock Song
"Freedom at 21," Jack White
"I Will Wait," Mumford & Sons
"Lonely Boy," The Black Keys
"Madness," Muse
"We Take Care of Our Own," Bruce Springsteen

Best Rock Album
El Camino , The Black Keys
Mylo Xyloto , Coldplay
The 2nd Law , Muse
Wrecking Ball , Bruce Springsteen
Blunderbuss , Jack White

Best Alternative Music Album
The Idler Wheel Is Wiser Than the Driver of the Screw and Whipping Cords Will Serve You More than Ropes Will Ever Do , Fiona Apple
Biophilia , Björk
Making Mirrors , Gotye
Hurry Up , We're Dreaming , M83
Bad as Me , Tom Waits
Copyright 2013 ABC News Radio