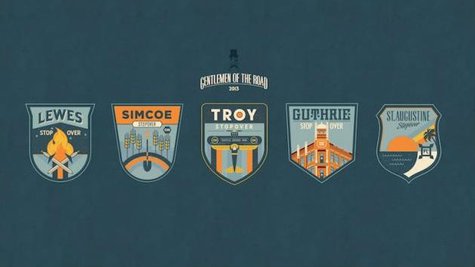 Mumford & Sons have just announced they're bringing back their popular Gentlemen of the Road Stopover series this summer, which features the band performing in a number of unique concert sites. This year, the Stopovers are expanding to include a Friday night concert followed by an all-day Saturday event headlined by Mumford & Sons.
"The Gentlemen of the Road Stopovers are all about live music," said the band in a joint statement. "We get to put them on in towns not normally frequented by touring bands in busses or splitter vans. We deliberately look for towns that have something unique, or some vibe of which they are proud, explore them and enjoy what they have to offer."
A number of bands will support Mumford on the upcoming dates including Vampire Weekend , Edward Sharpe & the Magnetic Zeros , fun. and Alabama Shakes .
Tickets for the new Stopover dates will run you $109 and will go on sale starting on Friday at 11 a.m. local venue time. Visit GentlemenOfTheRoad.com for more information.
Here are the Gentlemen of the Road Stopover tour dates:
7/19-20 –- Lewes, UK (with guests Vampire Weekend, The Vaccines, Edward Sharpe & The Magnetic Zeros, Mystery Jets, Johnny Flynn & The Sussex Wit and Very Best Sound System)
8/23-24 -- Simcoe, Ontario (with guests Edward Sharpe & The Magnetic Zeros, Old Crow Medicine Show, The Vaccines, Hey Rosetta!, Dan Mangan, Willy Mason and Bear's Den)
8/30-31 -- Troy, OH (with guests Edward Sharpe & The Magnetic Zeros Old Crow Medicine Show, The Vaccines, Half Moon Run, Those Darlins, Willy Mason and Bear's Den)
9/6-7 -- Guthrie, OK (with guests Edward Sharpe & The Magnetic Zeros, Alabama Shakes, The Vaccines, Half Moon Run, Those Darlins, Willy Mason and Bear's Den)
9/13-14 -- St Augustine, FL (with guests Edward Sharpe & The Magnetic Zeros, fun., The Vaccines, Half Moon Run, Those Darlins, Willy Mason and Bear's Den)
Copyright 2013 ABC News Radio