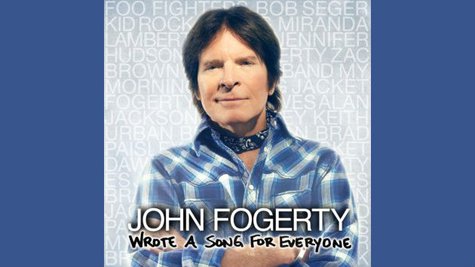 Foo Fighters , Kid Rock and My Morning Jacket are just a few of the artists set to appear on John Fogerty 's long-awaited collaborative album, Wrote a Song for Everyone , which is now scheduled to be released on May 28. The record will feature 14 songs, most of them new renditions of classic Creedence Clearwater Revival songs written by Fogerty that he rerecorded with help from a variety of famous music artists.
Other stars who've contributed to the project include Rage Against the Machine 's Tom Morello , Bob Seger , R&B singer Jennifer Hudson , and country luminaries Brad Paisley , Miranda Lambert , Alan Jackson , Keith Urban and The Zac Brown Band . In addition, Wrote a Song for Everyone includes two new solo recordings from Fogerty -- "Mystic Highway" and "Train of Fools" -- as well as a version of CCR's "Lodi" that features John's sons, Shane and Tyler .
Wrote a Song for Everyone is available for pre-order now from Amazon.com and iTunes. Those pre-ordering the album will immediately be able to download one of the tracks for free -- a rendition of "Born on the Bayou" featuring Kid Rock. That song got its premiere on Sunday during the Super Bowl XLVII telecast.
Here is Wrote a Song for Everyone 's complete track list:
"Fortunate Son" (with Foo Fighters)
"Almost Saturday Night" (with Keith Urban)
"Lodi" (with Shane Fogerty & Tyler Fogerty)
"Mystic Highway"
"Wrote a Song for Everyone" (with Miranda Lambert featuring Tom Morello)
"Bad Moon Rising" (with Zac Brown Band)
"Long As I Can See the Light" (with My Morning Jacket)
"Born on the Bayou" (with Kid Rock)
"Train of Fools"
"Someday Never Comes" (with Dawes)
"Who'll Stop the Rain" (with Bob Seger)
"Hot Rod Heart" (with Brad Paisley)
"Have You Ever Seen the Rain" (with Alan Jackson)
"Proud Mary" (with Jennifer Hudson featuring Allen Toussaint and the Rebirth Brass Band)
Copyright 2013 ABC News Radio