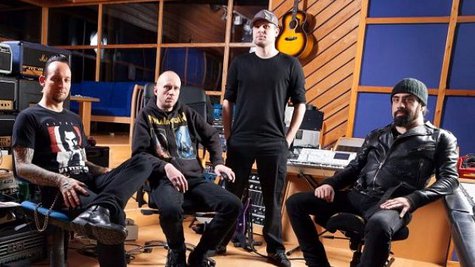 Volbeat has just announced that former Anthrax guitarist Rob Caggiano has officially joined the band as its second guitarist. The news comes less than a month after the group announced that Caggiano had signed on to produce the group's upcoming fifth studio album, Outlaw Gentlemen & Shady Ladies .
"The collaboration with Rob in the studio was so inspiring and in good spirit that we the decided to keep him," said frontman Michael Poulsen in a statement. "Basically we went into the studio as a three piece and came out as a whole band!" Caggiano adds, "After weeks of collaboration between Michael and I it became quite clear that we had an amazing creative chemistry together. It really isn't the way I envisioned the rest of my year to play out but at the same time, THIS feels more 'right' to me than anything I could have possibly imagined and I'm going for it!"
In addition, the group revealed that Outlaw Gentlemen & Shady Ladies will be released on April 8. Poulsen says that the new album, which was inspired by "classic spaghetti western movies," will feature "more old school heavy riffs" than the band's previous albums.
Copyright 2013 ABC News Radio