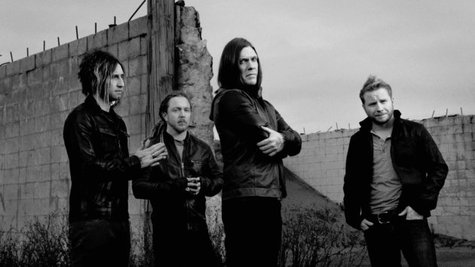 Shinedown returns to the road on Friday when they kick off the next leg of their co-headlining tour with Three Days Grace . Frontman Brent Smith says that while the band has added some spectacular surprises to their stage show, his first priority is still the music.
"We always go above and beyond, because we want it to be electrifying and exciting, and we want it to be intense and have fire and it be absolute rock fury, because that's what we do,'' Smith tells the Green Bay Press Gazette . "But at the end of the day, with all the bells and whistles, that's all fine and good to have, but if the songs have no substance and no one cares, then it doesn't matter.''
Smith adds that while the guys have about two albums worth of material written up and ready to be recorded, fans shouldn't expect the band to hit the studio any time in the near future. "We really do consider ourselves a living, breathing piece of art, so we take our time when we're writing songs, and ultimately, when we're putting that together to produce a record and make an album.
Copyright 2013 ABC News Radio