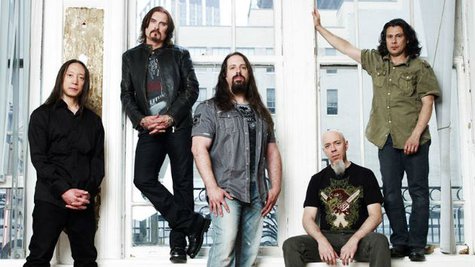 Dream Theater is sharing more footage from their recently released live set Dream Theater: Live at Luna Park . The band has posted online a video excerpt of their performance of " Metropolis Pt. 1 " from the CD/DVD collection.
Dream Theater: Live at Luna Park documents two concerts the group performed last year at the Luna Park Arena in Buenos Aires, Argentina. The two-DVD set features the band playing a number of classic tracks including "The Silent Man," "The Root of All Evil," "The Test that Stumped Them All" and "The Spirit Carries On."
A deluxe edition is also available which includes "Pull Me Under," the deluxe edition includes bonus tracks "Pull Me Under," "These Walls," "Build Me Up, Break Me Down," "Caught in a Web," "Wait for Sleep" and "Far from Heaven." That package also features two DVDs, a 60-page book of photos, a documentary about the concerts and three CDs of performances from the Luna Park shows.
In addition to buying the set, you can also score a free download of a double album of live tracks, which serves as a companion for Live at Luna Park . That release boasts a total of 13 tracks, all of which were recorded during Dream Theater's latest tour to promote 2011's A Dramatic Turn of Events .
Copyright 2013 ABC News Radio