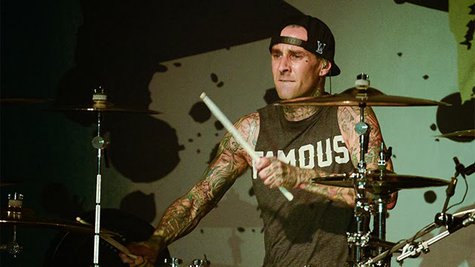 Travis Barker is ready to dish the dirt about his life as a rock star. The drummer posted a note on his Instagram account on Thursday, revealing he's working on a new memoir that will document his life and times playing with Blink-182 , as well as his other musical projects, including Transplants , +44 and Box Car Racer .
"I got a memoir I've been working hard on and it's turning out awesome," Barker writes. "It's been very therapeutic for me to get this all out and into a book and hopefully it can inspire…people and help many as well. It's coming out fall 2014, and I can't wait to share it with y'all."
In addition to a new book, it appears that Barker will soon be delivering some new music. Earlier this month, Barker posted a photo on his Instagram account that features him standing next to Limp Bizkit guitarist Wes Borland , former Nine Inch Nails multi-instrumentalist Danny Lohner , and hip-hop artist Scroobius Pip , along with the caption, "In the lab creating with these talented gentlemen @scroobiuspipyo @florinshordo and @dannylohner #goodtimes #goodpeople #goodmusic."
A release date for the material has yet to be announced.
Copyright 2013 ABC News Radio