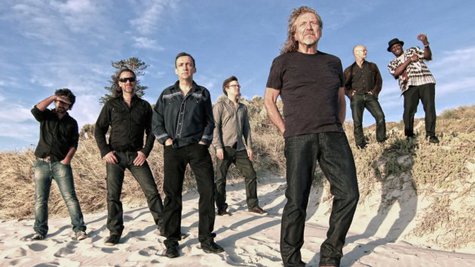 Here's some news that should excite Led Zeppelin fans: Singer Robert Plant has revealed that he's nearly finished working on a new album with current backing group Sensational Space Shifters .
A brief message posted recently on Plant's official Facebook page reads, "Sensational Space Shifters album…lost for words. Almost complete." The note accompanies of black-and-white photo of Plant and an unidentified bearded man at work in a recording studio.
In a BBC Radio interview this past October, Plant revealed that he and Sensational Space Shifters were working on their album at Peter Gabriel 's Real World Studios in southwestern England. The band's lineup includes members of the rock legend's early-2000s band Strange Sensation , as well as Gambian musician Juldeh Camara . Plant told the radio show's hosts that the concept behind the new group was "to create a band where there was a definite link between 20th century John Lee Hooker and Howlin' Wolf and the music of Africa itself."
Copyright 2013 ABC News Radio