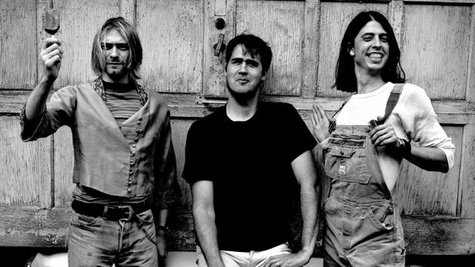 Nirvana will join the Rock and Roll Hall of Fame's class of 2014, and its surviving members couldn't be happier about being inducted.
Bassist Krist Novoselic and drummer Dave Grohl issued a statement on Tuesday in which they thanked fans for their support, and paid tribute to the band's late frontman, Kurt Cobain , who died in 1994.
"This is a great honor," writes Novoselic. "Thank you to the people who nominated and voted for us. Thank you most of all to Kurt Cobain. And to everyone who's kept Rock music going strong for 60 years and counting."
Grohl adds, "For once... I'm speechless. From the basements, to the dingy clubs, to the broken down vans, to... the Rock and Roll Hall of Fame. I'd like to thank the committee not only for this induction, but also for recognizing Nirvana for what we were: pure rock and roll. Most of all, thank you to all of the fans that have supported rock and roll throughout the years, and to Kurt and Krist, without whom I would not be here today."
Nirvana is being recognized in their first year of eligibility: 2014 marks the 25th anniversary of the band's debut album, Bleach . They'll be inducted into the Hall of Fame during a ceremony at the Barclays Center in Brooklyn, NY, on April 10.
Copyright 2013 ABC News Radio