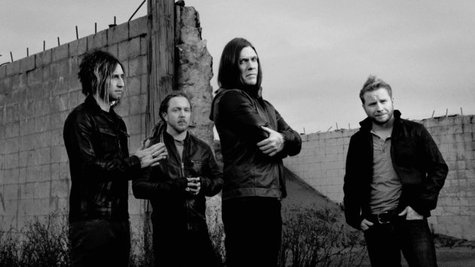 Shinedown has hit a snag with their upcoming acoustic album of covers. Guitarist Zach Myers says while the CD/DVD package has already been recorded, they still need to finish working out getting the rights and clearances to release their versions of other people's songs.
"When you get into publishing, you have to get permission, and two of the artists were, like, 'We don't like anyone covering our songs'," he tells This Is Not a Scene . "I'm not going to say who, Bon Jovi , and so that was kind of that. It's going to come out. It will be out soon."
Myers didn't reveal the full track list for the upcoming release, but he did name a few of the cuts we can expect to hear on the album. "I love hearing [frontman Brent Smith ] sing songs that aren't ours," he explains. "'Nothing Else Matters' by Metallica took three takes. We did this version of 'In The Air Tonight' by Phil Collins . We didn't rehearse it. I just kind of started playing, and he started singing it, and just became this kind of special moment."
A title and release date for the group's acoustic covers album has yet to be released.
Copyright 2013 ABC News Radio