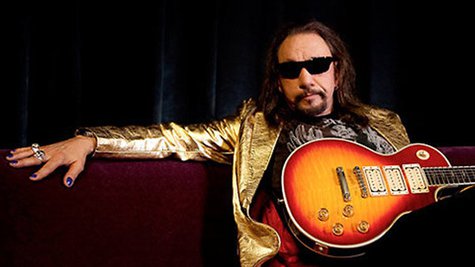 Former KISS guitarist Ace Frehley 's house in Yorktown Heights, New York, was damaged in a fire this past Saturday. According to White Plains' The Journal News , multiple fire companies were called to the house after smoke was reported coming from the stone building.
Yorktown Heights Fire Chief Chet Swirski tells the local news website firemen arrived at the scene and "found heavy smoke showing from the roof line of the building."
A statement on Frehley's official Facebook page declares that the fire inspector concluded, "An electrical fire was caused by a tree falling on the wires in the backyard and shorting out the fuse box which in turn heated up the internal wiring in the walls and started the fire." Frehley goes on to say, "I'm very thankful that no one was hurt! The fire department and police did a great job, and I'm very grateful to them for all of their help and courage in this matter...job well done!"
Frehley does not appear to live in the house, but is listed as the owner of the residence, which is currently in foreclosure.
Copyright 2013 ABC News Radio