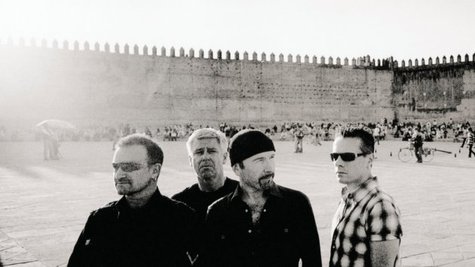 U2 , fun. guitarist Jack Antonoff and Coldplay are among the top music stars who received nominations Thursday for the 71st Annual Golden Globes, announced Thursday morning in L.A. They were all nominated in the category of Best Original Song from a Motion Picture.
U2 is up for "Ordinary Love," the song they wrote for the movie Mandela: Long Walk to Freedom. Their co-writer on the song, Brian Burton , aka Danger Mouse , is also nominated.

Coldplay's "Atlas," from The Hunger Games: Catching Fire is also nominated, Antonoff is nominated, along with Taylor Swift , for "Sweeter than Fiction." That's the song they co-wrote for the movie One Chance, based on the real-life story of Britain's Got Talent winner Paul Potts .
U2 has been nominated four times in this category and won once: in 2003, they took home the trophy for "The Hands that Built America," from Gangs of New York.
The Golden Globe Awards will be handed out Sunday, January 12 on NBC.
Copyright 2013 ABC News Radio