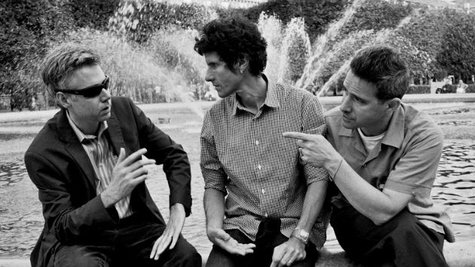 The feud between Beastie Boys and GoldieBlox, a toy company that makes engineering toys for girls, isn't over yet. The Beasties filed a countersuit in California on Tuesday against GoldieBlox for copyright infringement, for using a parody of the group's classic single "Girls" in a commercial for its products.
According to court documents obtained by Gigom.com , the Beasties insist GoldieBlox's "Girls" parody doesn't fall under the doctrine of fair use, which is what the toy company claimed in the lawsuit they filed against the group last month. As previously reported, in that suit, Goldieblox asked for a judge to declare that their ad was not infringing on the group's copyright.
The Beastie Boys legal team alleges that GoldieBlox "acted intentionally and despicably with oppression, fraud, and malice toward the Beastie Boys Parties." The Beasties are demanding that the toy company turn over to them all the profits generated by the "Girls" parody ad. The lawsuit also notes that GoldieBlox has a history of taking songs by popular musicians, including Daft Punk and Queen , and turning them into commercial jingles for their products without the artists' permission.
You may recall that last month, GoldieBlox posted an open letter to Beastie Boys members Adam "Ad-Rock" Horovitz and Michael "Mike D" Diamond on its website, announcing that it had decided to drop the song from the advertisement. "We are huge fans," the toy company wrote, adding that it had "the best of intentions" when they created the commercial.
The company explained that the main reason it decided to remove the song from the ad was so it could honor the final wishes of late member Adam Yauch . "We want you to know that when we posted the video, we were completely unaware that the late, great Adam Yauch had requested in his will that the Beastie Boys songs never be used in advertising," reads the letter. "Although we believe our parody video falls under fair use, we would like to respect his wishes and yours."
Copyright 2013 ABC News Radio