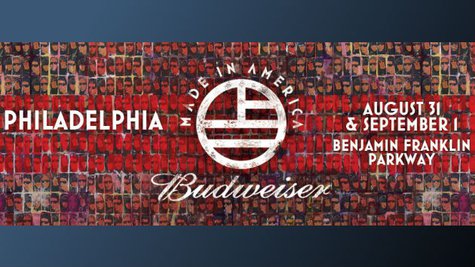 The second annual Made in America Festival kicks off on Saturday, boasting a lineup that includes headliners Nine Inch Nails and R&B diva Beyonce . If you're not able to make it to Philadelphia for the event, you can join the audience online: YouTube will be webcasting select performances from the festival all weekend long.
While the official lineup of concerts that will be available has yet to be announced, you can subscribe to YouTube's Made in America Festival channel for updates.
Other bands that will take the main stage at the festival include Phoenix , Imagine Dragons , The Gaslight Anthem , Macklemore & Ryan Lewis , and Fitz & the Tantrums , among others.
In other Made in America Festival news, director Ron Howard 's documentary about the inaugural edition of the event will see its premiere at the Toronto International Film Festival , which takes place September 5-15.
The film will be shown on September 7 at TIFF Bell Lightbox 1 at 10:15 p.m. and is expected to feature live performances from Pearl Jam , Dirty Projectors , Passion Pit , The Hives , and Gary Clark, Jr. , among others. The documentary will also include interviews with audience members about the festival and what it means to the Philadelphia community. It will air on Showtime on October 11.
Copyright 2013 ABC News Radio