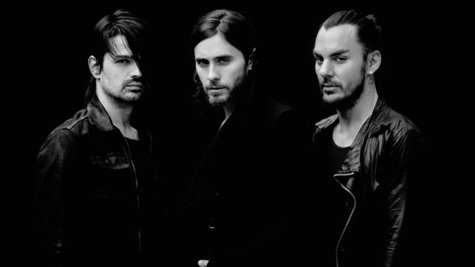 While some musicians were upset by Miley Cyrus ' antics on Sunday night's MTV Video Music Awards, 30 Seconds to Mars isn't one of them. Frontman Jared Leto says he enjoyed the pop singer's performance, and he's not quite sure why some people were unsettled by it.
"I do think it's interesting how shocked people get," he tells Billboard in a video interview. "If they could only see the rave their kids are going to and what their kids are wearing at the rave. Or just watch the video games they're playing. Those are probably the more shocking things in life right now."
Leto adds the VMAs have always had a history of shocking their audiences, and Cyrus was just continuing that tradition. "It's not the Kennedy Center Honors," he explains. "It's supposed to be out there and wild and titillating. When we were younger it was Madonna rolling around in a dress. Now that seems tame compared to what's going on, right?"
30 Seconds to Mars were up for three awards at this year's VMAs, and took home a Moonman trophy for Best Rock Video for "Up in the Air," the first single from their latest album, Love Lust Faith + Dreams.
Copyright 2013 ABC News Radio