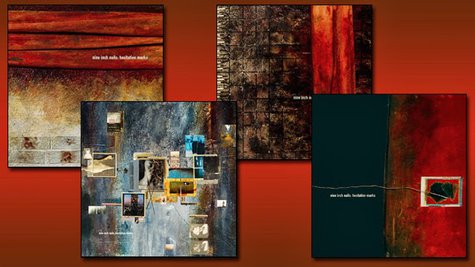 Nine Inch Nails fans who've pre-ordered the deluxe edition of the group's first album in five years, Hesitation Marks , may have noticed that there's a track on it titled "In Conversation With…" Now, the group is offering an excerpt of the cut on their SoundCloud page , which also features an interview with frontman Trent Reznor . In the clip, the singer says that the material on Hesitation Marks was inspired by the substantial personal growth he's undergone since he recorded the group's landmark 1994 album, The Downward Spiral .
"I started really thinking a lot about who I was back in the Downward Spiral days," he explains. "Not so much about the album, not the way it sounds or even really what it was about, but who I was then and who I've become now. [There] is a lot of reflection on this record and I'm pleased with how things have turned out."
Reznor adds that the strength of his relationship with his core writing team of his How to Destroy Angels band mate Atticus Ross and British record producer Alan Moulder helped foster a healthy working environment while making Hesitation Marks .
"We are, the three of us, close friends and we've worked together a lot," he notes. "You settle into routines and you start to define your roles as to who does what and it becomes natural. When we were in the studio, we can communicate without words and just instinctually we know what the next guy's gonna do; and we know how to volley around control of the situation, which makes it comfortable."
Hesitation Marks will be released on September 3 and features guest appearances from Fleetwood Mac singer/guitarist Lindsey Buckingham and The Who touring bassist Pino Palladino . If you pre-order the deluxe edition of Hesitation Marks now at iTunes , you'll score an immediate download of the album's first single, "Came Back Haunted."
Copyright 2013 ABC News Radio