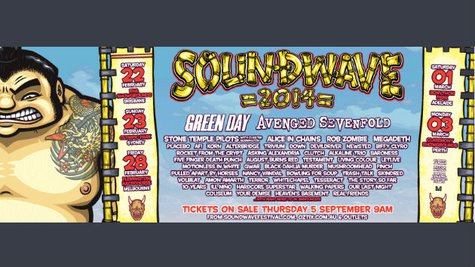 Producers of Australia's Soundwave Festival have secured some of the biggest names in rock to take the main stage at their event next year. The 2014 edition of the annual fest will include headlining performances by Green Day and Avenged Sevenfold .
The musical extravaganza -- which tours all over the country -- begins in Brisbane on February 22 and makes stops in Sydney on February 23, Melbourne on February 28, Adelaide on March 1 and Perth on March 3.
Other artists appearing at the festival include Alice in Chains , Stone Temple Pilots with Chester Bennington , Rob Zombie , Alter Bridge , AFI , Korn , Five Ginger Death Punch , Alkaline Trio and Megadeth , plus more. To see the complete festival artist roster and to buy tickets for the event, head over to SoundwaveFestival.com .
Copyright 2013 ABC News Radio