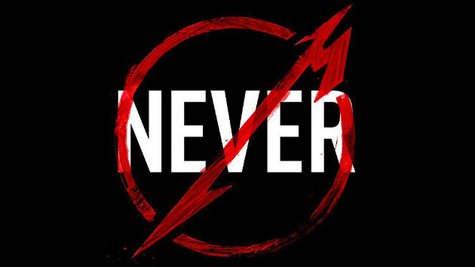 Metallica 's new 3D film, Through the Never , will hit every IMAX theater across North America for a full week starting September 27, but some fans will get to see the flick a few weeks before that. The band has just revealed that the movie will debut at the Toronto International Film Festival, which takes place September 5-15.
"We are incredibly proud and very excited to announce that Metallica Through the Never will make its world premiere at the prestigious Toronto International Film Festival on Monday, September 9 at 7:30 p.m.," writes the band in a joint statement on their website. " Through the Never will screen in the special IMAX at TIFF section and we'll be on hand for the red carpet premiere, to introduce the film and will spend some time in Toronto to chat with the press."
After Through the Never has its run in the IMAX theaters, it will expand into additional theaters starting October 4. The film's soundtrack, Metallica Through the Never (Music from the Motion Picture) , will arrive at the usual outlets on September 24. It features 16 career-spanning tracks, including versions of the group's classic tunes "Enter Sandman," "Master of Puppets" and "One" that were recorded during last year's concerts at Rexall Place in Edmonton and Rogers Arena in Vancouver, Canada.
A vinyl edition of the full soundtrack, as well as some limited-edition singles, will be available in the fall.
Copyright 2013 ABC News Radio