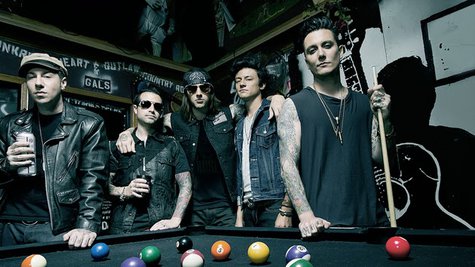 Avenged Sevenfold has made it clear that they want to be the next Metallica . Speaking with U.K.'s Metal Hammer , frontman M. Shadows says the group feels they're ready to become the hard-rocking leaders of a new generation, as Metallica was when the members of Avenged Sevenfold were growing up.
"We grew up on the altar of bands like [ Iron ] Maiden and Metallica and Megadeth and Pantera , and if bands that are younger could look up to us like that, that'd be the hugest compliment of all time," he tells the magazine. "The goals aren't to have millions of records, it's to be the top of our game in our generation."
Guitarist Synyster Gates adds that he feels that the group's new album, Hail to the King , will help cement their place as one of rock and roll's most influential artists.
"There's not a lot of bands that are ready to carry the torch," he notes. "I honestly feel like we're that band. When you start a band it's totally all fun and games, and it's all fun now, but there's no more games. We've had fun, now we want to leave a mark."
Hail to the King will arrive at all the usual outlets on August 27. The band is also preparing a video game and animated series based on the album, but release dates for those projects have yet to be announced.
Copyright 2013 ABC News Radio