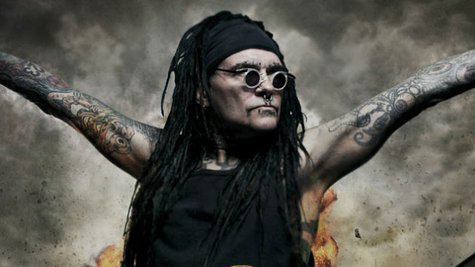 Al Jourgensen has always been a real character, but now it appears that he's getting his own comic book. The Ministry frontman says that he's in talks to create a series where he will fight the forces of evil as a superhero.
"We're working out the deal and it will get done where I'm a superhero called The Captain of Industry," he tells ABC News Radio. "I have a flying V guitar that if I play a chord on I can destroy all my enemies, and I also have electrical powers and acute hearing."
Jourgensen adds that he's planning to include cameos from some of the biggest names in rock in the upcoming comic series. "We'll have guest stars in there like [ Nine Inch Nails frontman] Trent Reznor and all this stuff, you know, as like my Robin to my Batman," he explains. "And some of my villains will be like people like Ted Nugent and record executives. Sounds like a gas to me."
A title and release date for the comic series has yet to be announced. In other Ministry news, the band will release their final studio album, From Beer to Eternity, on September 6.
Copyright 2013 ABC News Radio