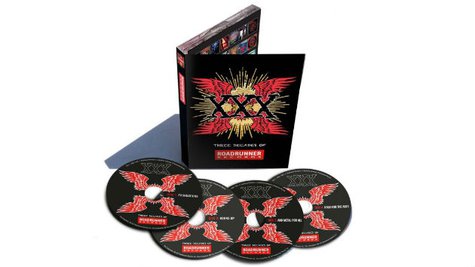 Roadrunner Records turns 30 this year, and the label has announced it will be celebrating the occasion by releasing a box set. Titled XXX: Three Decades of Roadrunner Records , the set boats a total of four CDs and features 54 tracks from a number of artists on the label's roster.
The first disc, titled Foundations , highlights the label's early years with ultra-heavy tracks by Mercyful Fate , Carnivore and Deicide , while the second disc, Horns Up , delivers cuts from the metal scene of the 1990s, including tracks by Slipknot , Machine Head and Sepultura . The third disc, And Metal for All , features songs put out by the label in the last 13 years, including cuts from Megadeth , Killswitch Engage and Hatebreed . The final disc, Rock for the Ages , features tracks by some of the biggest names in rock including Rush , Nickelback , Stone Sour , Korn and Lynyrd Skynyrd .
XXX: Three Decades of Roadrunner Records will run you $39.98, and is set to arrive at all the usual outlets on October 1.
Here is the full track list:
CD 1 - Foundations :
"Evil" -- Mercyful Fate
"Power Thrashing Death" -- Whiplash
"Abigail" -- King Diamond
"Carnivore" -- Carnivore
"Slowly We Rot" -- Obituary
"Alison Hell" -- Annihilator
"Sacrificial Suicide" -- Deicide
"Infecting The Crypts" -- Suffocation
"Punishment" -- Biohazard
"Christian Woman" -- Type O Negative
"Matando Güeros" -- Brugeria
"Veil of Maya" -- Cynic
"Through and Through" -- Life of Agony
"Excess and Overdrive" -- Treponem Pal
CD 2 - Horns Up :
"Wasting Away" -- Nailbomb
"Imperium" -- Machine Head
"No Fronts (Jam Master Jay's Main Edit)" -- Dog Eat Dog
"Crystal Mountain" -- Death
"Roots Bloody Roots" -- Sepultura
"Loco" -- Coal Chamber
"Eye For an Eye" -- Soulfly
"Shock" -- Fear Factory
"Spit It Out" -- Slipknot
"New Disease" -- Spineshank
"Pure Hatred" -- Chimaira
"Bloodwork" -- 36 Crazyfists
"What Comes Around" -- Ill Niño
CD 3 - And Metal for All :
"My Last Serenade" -- Killswitch Engage
"Pull Harder on the Strings of Your Martyr" -- Trivium
"I Could Care Less" -- Devildriver
"Nymphetamine Fix" -- Cradle of Filth
"Destroy Everything" -- Hatebreed
"Inflikted" -- Cavalera Conspiracy
"The Dagger" -- Roadrunner United
"Fear of a Blank Planet" -- Porcupine Tree
"On the Backs of Angels" -- Dream Theater
"Heir Apparent" -- Opeth
"Head Crusher" -- Megadeth
"Witchtripper" -- Down
"Bible Black" -- Heaven & Hell
"L'enfant Sauvage" -- Gojira
CD 4 - Rock for the Ages :
"Side of a Bullet" -- Nickelback
"Anger Rising" -- Jerry Cantrell
"30/30-150" -- Stone Sour
"Ma Petite Mort" -- Karma to Burn
"Pretty Lush" -- Glassjaw
"Girl Anachronism" -- The Dresden Dolls
"No One Fits Me (Better Than You)" -- Airbourne
"Dead in Hollywood" -- Murderdolls
"Bad Girlfriend" -- Theory of a Deadman
"Lonely Train" -- Blackstone Cherry
"Get Up!" -- Korn (featuring Skrillex)
"Headlong Flight" -- Rush
"Still Unbroken" -- Lynyrd Skynyrd
Copyright 2013 ABC News Radio