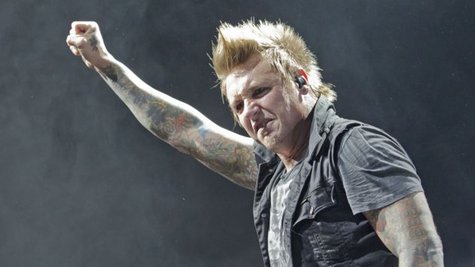 Papa Roach announced on Monday that they had to postpone their South American tour dates due to frontman Jacoby Shaddix experiencing some problems with his vocal cords, which resulted a number of fans posting angry messages about the cancellation. Now, Shaddix has responded to fans in an open letter on the group's Facebook page .
"Trust me I would love to not have to deal with these vocal cord issues at all," he writes. "Don't forget I am a HUMAN not a MACHINE. When a guitar string breaks you change it but when a vocal chord breaks time and silence is the ONLY thing that heals it.
Shaddix had corrective surgery to fix his voice last year, during which doctors removed a nodule from his left vocal cord. The singer adds he hopes that he won't have to have another surgery to fix the problem, and that the band expects to reschedule the missed dates soon.
"My HEART goes out to the people that bought bus and plane tickets to come see us," he notes. "In fact we are losing a ton of money by not going…but my HEALTH comes first. I PRAY that you find it in your hearts to understand."
Papa Roach's next scheduled tour date is August 16 at Constellation Brands-Marvin Sands Performing Arts Center in Canandaigua, NY.
Copyright 2013 ABC News Radio