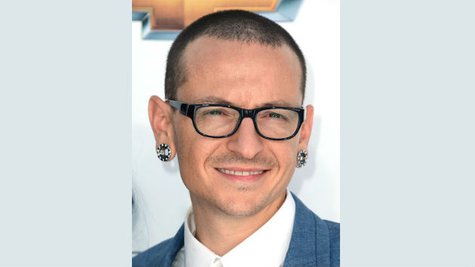 Chester Bennington is a busy guy. The Linkin Park frontman, who's also the new lead singer for Stone Temple Pilots , says that he's constantly on the move working with both bands on new releases, as well as helping to create the soundtrack for Mall , a new film directed by LP keyboardist Joe Hahn .
"While I was working with Stone Temple Pilots on their new EP there were some times I was actually recording with Linkin Park the same day," Bennington tells Yahoo! Music's Stop the Presses! "Writing for both was crazy, but it was fun, too, because both bands have their own distinct character."
Bennington adds that he's enjoying the challenge of working on the soundtrack for Mall , which is "based on the Eric Bogosian novel about five unhappy suburbanites who become inextricably entwined one night when [a man] goes on a shooting spree in a shopping mall."
"There's a different mindset going into scoring a movie than making a record because you're trying to capture the scene without having the music distract you from what you're looking at," Bennington explains. "We're trying to capture the emotional quality of the film so there's a lack of structure and there aren't very many parts when compared to radio songs."
According IMDb.com , Mall stars Vincent D'Onofrio , Gina Gershon , Peter Stormare , James Frecheville , Mimi Rogers and Cameron Monaghan . A release date for the movie has yet to be announced.
While STP is expected to drop an EP sometime this fall, Linkin Park is long way away from releasing their follow-up to 2012's Living Things . Bennington revealed that LP has completed only one track so far, which features a special guest. He says he hopes to release it sometime soon.
Copyright 2013 ABC News Radio